In this article we describe the McKinsey 7S Model, a management model that is used in analysing the internal organization.
What is the 7S model?
The 7S Model is a management model that is used in analysing the internal organisation. According to the model, the most important elements of an organisation must be attuned to each other. The model also identifies the most important elements with which it forms a convenient checklist to analyze the internal organisation step-by-step. Furthermore, it can also be used for developing future strategy, as component of the Internal Analysis and marketing plan.
How does McKinsey's 7S Model look like?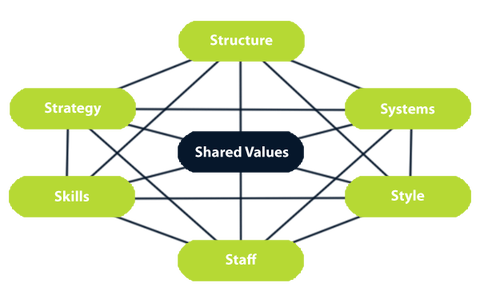 What are the elements in the 7S Model?
Mckinsey's 7S Model constitutes of the following elements:
Structure
How is the organisation established? Functions, competencies, hierarchy, division of work, etc.
Strategy
What is the established strategy of the organisation? With what kind of means must the targets be realised?
Systems
In systems, the point is on how processes within the organisation run. Communication streams, procedures, agreements etc.
Style
Style refers to the management leadership. Good vs. bad leadership often has demonstrable effect on good vs. bad result from the employees.
Skills
What skills do the employees have with which the company can put in exceptional performance? How does the business care for exceptional abilities?
Staff
How is the P&O within the organisation designed? What kind of characteristics must the personnel have? How does the organisation give rewards and how is the personnel maintained?
Shared Values
Shared values are the common purposes of an organisation and therefore occupies a central position in the model. Core values, vision and corporate culture on which the organisation is based.
Conducting the 7S Model
Research on each element of the problems and summarise them. Then, make a matrix and link the elements with each other. Next, think up a solution and use it to adjust the company's strategy.
Conclusion 7S model
The 7S Model is a simple checklist for analysing the internal organisation and is therefore a good tool to include in conducting an internal analysif or a marketing plan.